Pet Sitting and Pet Nannying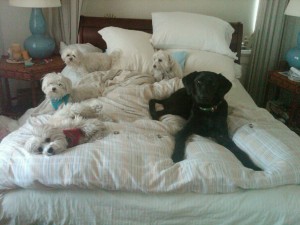 Over the years, many of our clients have voiced concerns about leaving their dogs in boarding kennels while they are traveling. Some senior dogs have health issues that demand special attention; puppies might require more attention than they would receive in a kennel; and some dogs are used to sleeping in a quiet bedroom or having human companionship during the day. Whatever your dog's needs, we will work with you to customize a boarding solution that will make your four-legged-friend feel right at home. Your dog is welcome to stay in one of our experienced dog nanny's homes or in the comfort of their own home.
---
Sleep-Overs
When your dog stays at one of our dog nanny's homes they will be afforded the same luxuries and follow the same rules as in your own home. They can relax on the couch and sleep in bed if you allow this, or we can bring their favorite bed right into our homes. Your dog will enjoy luxury accommodations with plenty of TLC and one-on-one attention.
We will maintain your dog's regular walking, feeding, and medication schedule, and will supplement this routine with additional daily visits to the park. This is also an excellent opportunity to reinforce good behaviors; there is nothing better to reinforce manners than leaving your dog for a week vacation with an experienced NYC dog nanny trained in our Whole Dog methods.
---
Board & Train
The Peaceful Dog offers customized Board and Train service on a case-by-case basis. This option is highly personalized to suit the specific needs of you and your dog. Please call 917.628.8736 or email us for more info.
---
In-Home Pet Sitting
The Peaceful Dog offers private in-home luxury pet sitting. If your dog would prefer to stay in his or her own home, we can arrange to have a highly trained dog nanny come to you.
---
For customized overnight solutions, private dog sitting, and NYC dog nannying, please contact us 917.628.8736 or lauren@thepeacefuldog.com.